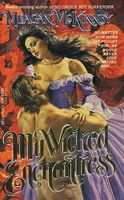 Two weeks ago I had an incredible visit to New Orleans. I had always wanted to visit this very historic city and I couldn't wait to soak up the culture. My husband I signed up for three walking tours to introduce us to the city's history and folklore. We had a tour of the French Quarter, a ghost tour and a tour of the Garden District. The tours were all rich in information and they were all entertaining as the guides told us about heiresses, pirates, quadroon balls, the origins of the Creoles, the War of 1812, French and Spanish ownership, and Yankee occupation during the civil war.
Did I learn a great deal on these tours?
I think that it would be more accurate to say that my memories were refreshed. You see, I was introduced to romance during the bodice ripping error and so many of those books were set in New Orleans. For those of you unfamiliar with this era, there were numerous forced seductions by pirates, rich plantation owners and other types of dominating men, that to say the least, is not politically correct any longer. As readers, we often try and brush aside this era of romance as silly and embarrassing. Don't get me wrong, I loved those books when I read them, but we've all changed and they just don't seem to sit well with most of us anymore. Not only have we left forced seductions behind, but there is a more focus on building the depth of the relationship.
However, my trip to New Orleans brought back something I'd forgotten. Those books were incredibly well researched and rich in history. As I listened to the tour guides talk about the city's history, I thought to myself
I know all this.
I silently thanked Shirlee Busbee, Jennifer Blake, Kathleen Woodiwiss, and Meagan McKinney. Even Lisa Kleypas had a couple of bodice rippers set in New Orleans at the beginning of her career which I still have sitting on my shelf! Oh and I know that's not all the authors but those are some of my personal favorites that come immediately to mind.
I knew New Orlens history and I knew it well because these ladies had done their research and written beautifully rich historical romances. I realized that we may have come to expect more of our heroes, but these authors set a high standard for historical romances. It was not the lure of Bourbon Street that pulled me to New Orleans, it was these authors beautifully written stories set in this incredibly fascinating city.
While staying in New Orleans I stayed at the Hotel Provincial located right in the French Quarter. My husband and I were on a ghost tour when we were informed by our guide that our hotel was haunted and that it had been used as a hospital during the Yankee occupation during the civil war. Imagine my delight when I realized I was staying in the hospital where Alaina and Cole worked in Kathleen Woodiwiss' Ashes in the Wind, my all-time favorite bodice ripper!
So let's remember and thank those ladies for all the amazing work they did writing those stories!
Who was your favorite bodice ripping author? I'd love to know!